---
Product Description
Ultra Reflective Personalized Address Sign With Double-Sided Numbers
Hand-made using ultra-reflective material to ensure maximum visibility

Custom-cut and applied by hand for exact placement and personalization

Made with long-lasting, engineer-grade materials—no rust or painting ever required

Satisfaction guaranteed—30-day, no-hassle, money-back guarantee
In the event of an emergency, can 911 easily find your home? If not, you may need to change your address sign—your safety may be in jeopardy! This beautiful reflective address sign not only has an elegant look perfect for any home, but it is also designed to ensure that your house is spotted during emergency situations. Our personalized address signs are custom-built to display all the beauty of wrought iron while avoiding all the downsides—it will never rust and never need to be painted. They just keep looking beautiful, year after year.
Specifications
Coated with powder-coated process paint

Available in different post heights—30" or 48"

Topped with a Four-Sided Spire Finial

Can accommodate address numbers as long as six digits.
Ready to claim your own personalized yard address sign? Shop Address America today!
Our Process
Address America began making the world's best address signs in 1992. Now, more than 23 years later, we still hand make these beautiful signs with precision and care. We are proud of our signs and know you will love yours. In fact, we offer an absolute 30-day try before you buy guarantee. We want you to be a happy customer, or we don't want a penny from you.
We start the process of making your sign with a 3/4" steel tube, cut to the length you choose. That steel tube is then painted using powder-coated process painting that gives a beautiful black painted finish that is more durable than traditional painting processes.
We then attach our exclusively designed polypropylene sign bracket to the post using galvanized bolts and powder coated nuts. This polypropylene bracket is made of the same material that is used to make automotive batteries and other products used in the most extreme environments. We use polypropylene to get all the beauty of wrought iron with none of the negatives. Our beautiful brackets never need painting and will never rust. 
With the bracket attached, we then custom cut your address number out of our super reflective material and hand apply it to the 5" x 11" aluminum blank that will attach below the bracket. To ensure long-lasting quality, we use engineer grade material that is rated for at least 7 years of highway and interstate use.
Our skilled sign makers work diligently to ensure that every number is perfectly applied. To top it off (literally), we tap on a beautiful finial tip to the top of your signpost to add a finishing touch. To ensure durable beauty, the finial tip is made out of the same high-impact polypropylene as the sign bracket.
Your complete satisfaction is 100% guaranteed!  You will love your sign or get a full, no-hassle refund.  Address America is committed to customer satisfaction.  
Customer Reviews
Write a Review
Ask a Question
the Annadel
We are exceptionally impressed with both the quality and appearance of the sign. Would highly recommend to anyone interested. Jim & Nina Meals
Home sweet home!
I am very pleased with my new reflective address sign . It is a beautiful addition to our front lawn. Stands out nicely after dark. Nice workmanship and strong material. Will definitely recommend To other members of my family ,friends and neighbors. The thank you note from Ivory was awesome
Annandale Super Reflective Address Sign
I highly recommend this sign - it is attractive, sturdy, well made and it easily fit right onto our wrought iron fence so there was no installation necessary for us. The women who made the sign sent a hand written note, telling us that it was her pleasure to create the address sign for us! A lovely touch! I recommend Address America and their products!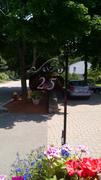 Outstanding Service and Product
Address sign was delivered on schedule, exceeded all my expectations in terms of appearance and quality, and the customer service including detailed installation instructions were above and beyond. Simply outstanding!
Great Service!
I was super surprised how responsive and helpful the customer service rep was when I emailed a question about a special request. They made it super easy and I had my special order processed right away. The product looks great. I 100% recommend this company.
Address Sign
Great! Good Service and product!
REVIEW
GOOD LOOKING, a little shorter than what I wanted but I can handle making an extension.
Great product would highly recommend.
We've had a sign for over 20 years. It's been through hurricanes and blizzards. It's still in great shape. I wanted to get one for our shore home. Having a hard time finding a quality sign my wife said why not get the same one. She said the name was on the sign. I took the IP address of the sign and ordered a sign for the shore. It came very quickly but had a slight problem. I emailed Dave and he responded in 15 minutes. He resolved the problem promptly. I strongly recommend them to anyone looking for a quality sign.Having come from a manufacturing background they definitely are customer oriented.
Couldn't be Happier
Love the sign. Great addition to Our new home.
numers not smothley applied
numers not smothley applied